There have been a few crickets since the last School of Open blog post, but for good reason as Molly, Piet, and I have been busy planning and putting on two School of Open intensive workshops this week — one virtual, and one grounded entirely in physical reality. I'll start by giving you a download of the Open Challenges Workshop which we put on with Michelle and Chloe from Mozilla, since it just happened yesterday.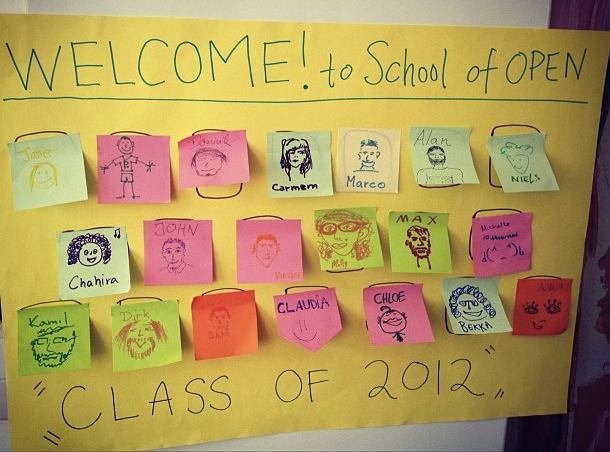 Class picture. School of Open. / bagaball / CC BY
We had 20 people RSVP to the event, and 20 people attend!
Here's what we did at the School of Open Challenges Workshop:
We introduced ourselves by sharing stories about how an open tool or practice made our lives easier.
We did a spectrogram activity, thoughtfully voicing our opinions on whether "Openness is inherently valuable" and "People need to be taught how to be open."
We split up into groups and took the "Teach someone something with open content" challenge. People found videos and resources to teach others how to visualize data, how to decide whether to share commercially, how to add audio to video using open source software, and even how to pick out an outfit for the day. We did some Round Robin teaching and learning, which meant each group rotated to the next table to learn what the others had found, while one member from each group remained to teach the challenge.
We shared reactions to eating our own dog food, aka taking the courses we create. Several of us recognized the challenge of approaching course creation with an insider's perspective on open, eg. a course titled "To NC or not NC (use a noncommercial CC license or not)" versus a course titled "Learn how to share your music video".  Though we affirmed the benefits to approaching the design of a course in a way that speaks to what people already DO, some of us also thought it was necessary to have a course (or several) on why openness is important.
We chose our own adventure in the second-breakout, by forming groups around what we wanted to build as part of School of Open. One group created a course on "Adding open audio to video with open source software," building on the resources they found in the last break-out. Two other groups started courses on best open tools to use for collaboration and open tools for filmmaking. Some of us brainstormed badges around open skills that might be certified by the School of Open, such as "Master of the Public Domain," "Curator of open content," and "Super Blogger". Still others, or more specifically John Weitzmann of CC Germany, gave feedback on some of the core draft documents for the School of Open, such as a draft philosophy/description for our future about page and guidelines for what is and is not a School of Open course. We will continue to seek feedback on these documents, by the way, and they will evolve over time — so please help us improve them!
Lastly, we came back together and shared our reactions to the workshop format, as we are planning to evolve this into a toolkit for future School of Open workshops at various events around the globe, including the OKFestival in Helsinki in September. We also voiced our individual missions with regards to School of Open, and how we want to remain involved. Every single person said they would like to either create a course, contribute to a course, or at the very least sign up for the discussion list!
Outputs from the School of Open Virtual Sprint
The Virtual Sprint was less people, more making. We built, improved, tested, and shared challenges and courses, including
Please take these challenges and give us feedback! Simply pay a visit to http://schoolofopen.org.
That's it for the week. Stay tuned for next steps as Molly, Piet, and I head back to our respective countries/states and blog our individual reflections and future commitments.