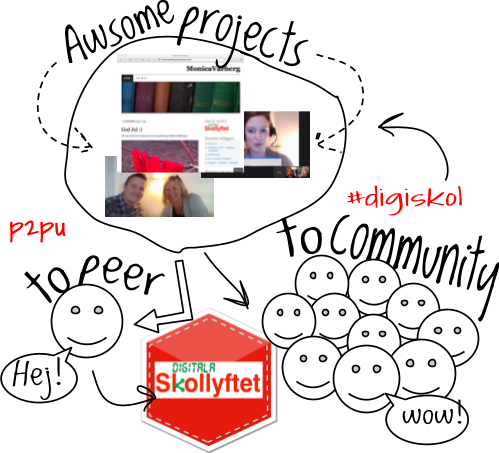 This is a guest post from Sara Mörtsell, Education Manager at Wikimedia Sweden, and part of the informal online community of Educators in Sweden
As our Swedish MOOC for Educators, "Digitala Skollyftet" is nearing the end, some great projects have been awarded the Digitala Skollyftet Badge at P2PU. I'd like to take this opportunity to share the story behind our project and why I find P2PU such a useful resource for building a learning community.
Educators are doing some pretty impressive stuff and by sharing and connecting, the online community of Swedish educators is a thriving one. In designing and planning for this MOOC, we wanted to explore the intersection of course and community in a Massive Open Online Community. The theme is centered around digital media, sharing is caring and Education.
Easy enough, but how can we recognise these skills and contributions? This was an opportunity to use open badges and hopefully introduce the concept of badges to educators in Sweden. Luckily, I got some great advice from Doug Belshaw and Laura Hiliger at Mozilla on how to think about this, such as keep it simple and get the community involved.
Let me share an outline of some of the steps taken towards issuing "Digitala Skollyftet Badge". Firstly, the badge canvas from DigitalMe is a great resource for badge issuers and a helpful starting point in mapping out how different users, skills and values come together. I then took the School of Badges 102: Quick Issuing challenge on P2PU and what a great learning experience that turned out to be! I made sure to invest plenty of time and effort into the readings and particularly enjoyed this post by Carla Casilli on validity, which opened my eyes to how open badges challenge the idea of validity in assessment which then raises some necessary questions about the whole issue of using psychometrics within Education. The different tasks in Quick Issuing 102 were also very helpful in identifying key elements, for example that this project is about badging community membership. Above is my early illustration and here are my notes from the challenge.
At some point towards the end of my Quick issuing challenge I finally realised how ingenious peer assessment is for awarding community membership badges and how valuable P2PU is as a resource in building a learning community. My discovery was possibly fuelled by the insights offered in this post about MOPE, Massive Open Peer Evaluation. Here's my short summary of why it's such an excellent tool (and the reason why we're seeing so many great Swedish projects on P2PU at the moment):
A community is made up by a network of peers, not hierarchically by teachers and students.
All members in the community, not only expert members, are skilled in recognising the community membership of new members.
Open peer evaluation is a conversation and a valuable contribution in building the community, it's not a separate assessment process.