Over the past few months, we've been working to make badges.p2pu.org slick, usable and flexible. We shipped OBI compliance, course integration with iframe embedding, and a new Badgemaker course to help folks get started. All this is to say: we've had Badges on the brain, and our next initiative was to get the word out to the open learning community about the goodies to be had.
Goal for July 2013: 30 Days, 30 Badges
We set a goal–for the month of July, we'd work with the community to create a Badge a day.  As I helped folks out with the learning design for their Badges, this drive also gave me an opportunity to watch how people used the system, observe pain points and think through how to improve it.
Achievement Unlocked
Boom! Happy to report that, during July, 68 new Badges were created on the site–which brings our grand total to over 100 Badges, and represents 200% uptick in usage. The way folks have been using Badges has been truly inspiring–here's a look at some highlights.

Open Science
Open Science: an Introduction has developed a delectable suite of Badges for specific projects in the modules, and for the course as a whole.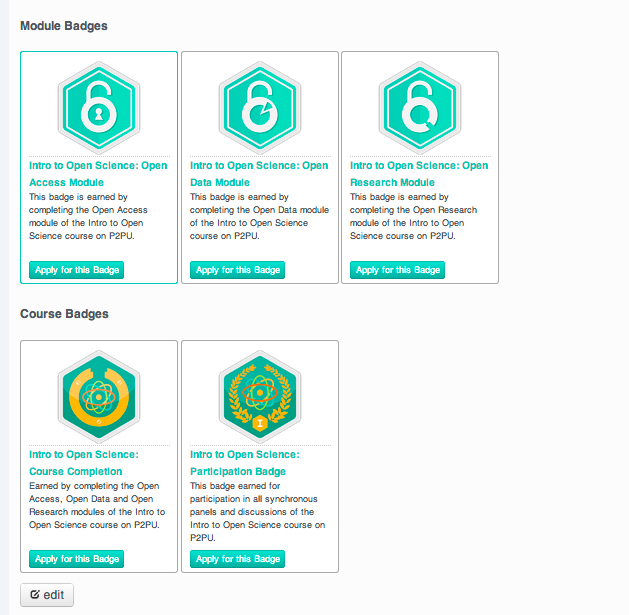 The course comes out of the Open Data Day initiative, with Creative Commons' Billy Meinke at the helm. Over 100 folks have signed up already–join them here.
School of Open
Open Science is part of the School of Open, a collaboration between P2PU and Creative Commons. SOO has launched 7 courses for this fall, including a suite of courses surrounding copyright and education. Our esteemed colleagues over at CC, especially Project Manager Jane Park, have put together Badges for projects remixing, curating and attributing open content–check them out: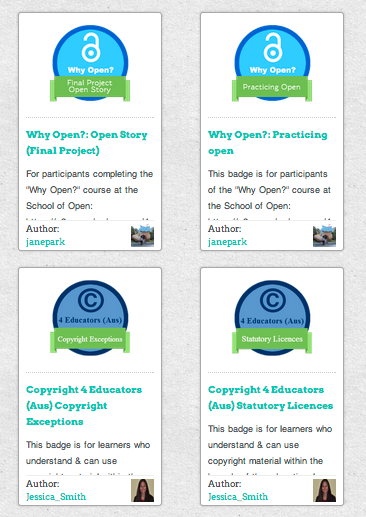 Youth Voices
Affiliated with the National Writing Project, Youth Voices is an organization committed to student self-expression through writing. Paul Allison, the ringleader of Youth Voices, asked me to come up to Lehmann College in the Bronx to introduce Badges to students in the summer program. After testing out the system together, these students created Badges themselves to award to each other: a radically learner-centered approach to the classroom. Check out some of the Badges that students chose to recognize in each other: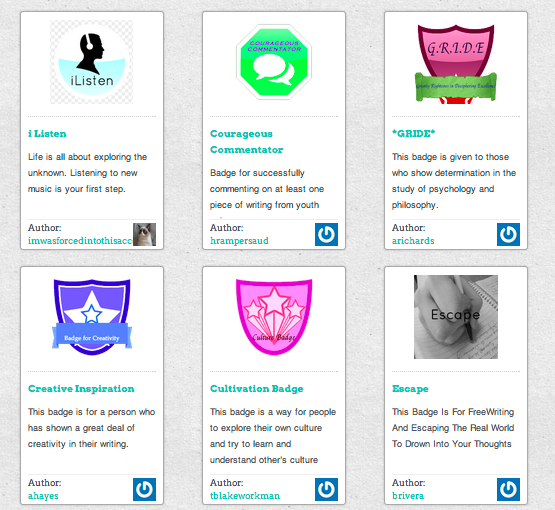 We're really thrilled by what our community is doing with Badges, and we're listening to their feedback as well. On the roadmap for the next sprint is:
Badge discoverability

Usability upgrades: increasing character count in criteria field, improved creation flow
Aligning Badges with standards via metadata
How Do I Get Involved?
We're so glad you asked.