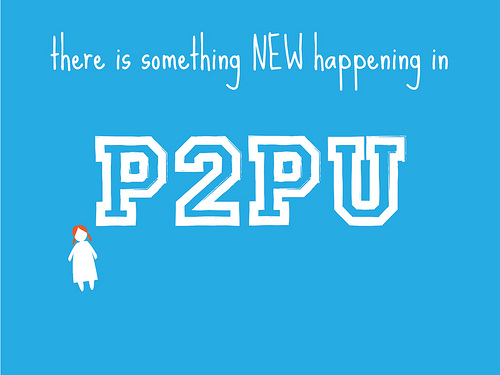 Welcome to this month's roundup of everything that has happened in the P2PUniverse. We've stripped down our newsletter so that we can cram more info in for you. We hope you like it…
Course News:
P2PU Courses are getting better and better – if you don't believe us, just take a look at this gem from John Martin, who has been working on a course which introduces video game design and development to classrooms to reinforce concepts in math, reading, science, logic, and technology. 
The Citizen Scientists at P2PU have been back in the lab – loads of activity in this space over the last few weeks. If you've ever wondered what citizen science is all about, this course is the place for you.
We've also revamped our "How to Create a Course" course, and brought it up to speed with the brilliant developments that have been taking place at badges.p2pu.org. Now, learning how to build outstanding courses is easier than ever.
Community News:
All sorts of stuff has been happening within our community in the last few weeks. Some of it is heartwarming, some will make you tap your feet, some might, we admit, make you scratch your head…
Vanessa decided that our wonderful translation contributors needed to be thanked properly. We couldn't throw them a party, but we decided that a party playlist was the next best thing. Read about it, while listening to it.
And speaking of contributors, Tim Gaudette shared this post with us about how he came to join P2PU, and why he chose to stick around. This is the stuff that makes P2PU special, folks.
Of course, there's no point in building a community of like-minded people if you don't have a treehouse to hang out in. Dirk and Erika have been doing some serious home improvements for P2PU.org, and this post explains the how and the why. (It's not *just* and excuse to build a robot).
Data Mooc News:
If you still hadn't heard (and if this is the case, we want to go on holiday to whatever internetless place you are) we've been looking under the hood of the Data Explorer Mission and have found some very interesting results. Take a look at the findings, for the analysis. Or, if you prefer to put a more human face on these kinds of things, have a look at this great post from Data Explorer Anna who gives a firsthand report on plumbing the depths of the data ocean…
And Finally…
About a year ago, we launched an experiment into collaborative working for distributed virtual organisations. Which is a fancy way of saying, we tried working together in real time, not just online. We've crunched the numbers and asked the questions, and have written up our experience into a guide to running a popup office. Read it here, and spread the word! (tip: having good food helps…)
That's it for today. So what are you waiting for? Go and learn something!