Greetings peers–I just returned from a whirlwind trip to Durham for the
DML Grantee
workshop. All of us grantees gathered together to share how we approach assessment and badging systems.  As P2PU has been doing this stuff for awhile, we were asked by DML to talk about what we're up to.
DML Demo
The prompt was to give a brief overview of our system, and to answer the question "How do we test our system or prototype?"
Here's how I choose to engage that question (P2PU starts at about minute 30:00 or so).
And the slide deck I used for the presentation:
The questions were awesome, and shoutout to
David Wiley
for the request to mention "marimba" or "xylophone."
Unconference, Peer-Learning Style: User-Generated Content
As soon as I arrived in Durham, I heard some buzzing about the thorny issue of
UGC
. Since participatory assessment means that many users will be creating their own badges, this is an important issue to consider and address.
As I've mentioned before
, having a good
content strategy
is particularly relevant here. I decided to propose an
unconference
session on the guidelines we use at P2PU when thinking about UGC.
 So we started off by talking about several tips one can consider to prime your community to create solid content.
After walking through the different strategies that might be useful–curation, supply good tools, give in-line help content, make awesome resources, and create safeguards–it was time to get to the peer learnin'.
Folks were asked to form small groups and complete the following activity:
Come up with three things that you are good at. Select one to share with your small group.
Create a product or service that hits upon your collective talents, and relies on user-generated content.
Draft an interface that uses the strategies we talked about to make awesome content.
Pitch your product or service to the larger group.
A bit of background on this design of this activitiy–I asked folks to brainstorm a talent of theirs so the project would be
interest-driven
. Both the product and the interface design are good examples of
project-based learning
. Grouping people together with different strengths and sharing the results–well, that is peer learning at its finest 🙂
The outcome was awesome. One group came up with an idea for a dream-blogging community, which was totally rad.
Another group came up with an idea to make short, just-in-time activities to engage your kids when you're in a tight spot: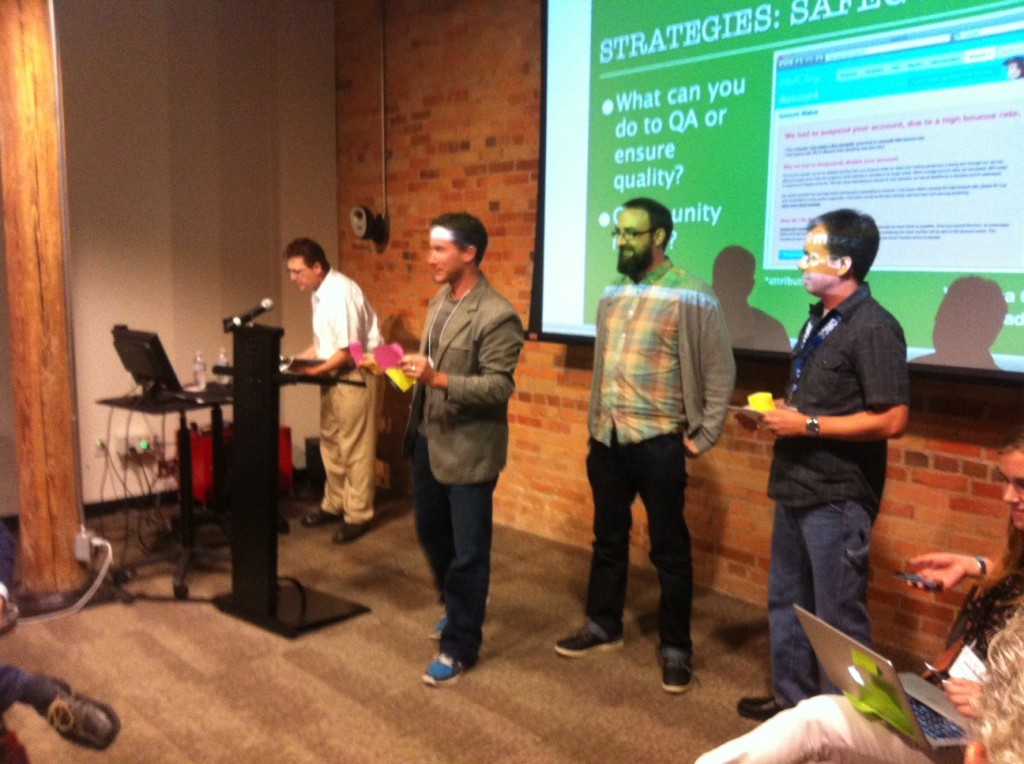 And check out the totally badass interfaces the small groups came up with: