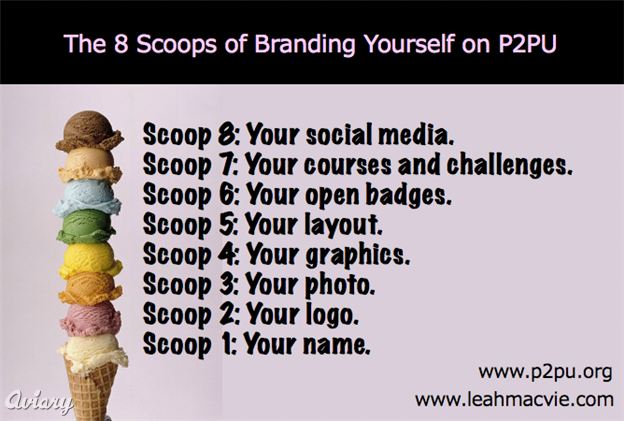 This post is brought to you by P2PU super-user Leah MacVie – she's fantastic!
Branding yourself is a bit like building a really good ice cream cone. You select flavors that represent you in a way when you carefully craft an ice cream cone- flavors, colors, toppings.
Many of you may have heard about the concept of self-branding- making a name for yourself, branding yourself like a company, setting yourself apart from the pack. I believe this concept of self-branding is an important skill to have. I've come back to it many times over the years, including presentations for my students, presentations at conferences, and even projects for my Master's.
Investing time in building your brand helps others recognize you and define you easier. When you use similar design on all of your projects and materials that represent you, they form a collection of items that others can easily identify. I believe we should always be conscious of building our brand in everything we do, from day to day interactions to the P2PU courses we develop. So, how can you use your P2PU challenge developing skills to help build your personal brand? Here are 6 scoops to develop your personal brand on P2PU:
Scoop 1: Your name
People will sometimes use usernames that have nothing to do with their real names. When others interact with them, they don't know what to call them; they don't know how to identify them. A name has importance and if you don't like yours or you want to keep some anonymity, make one up. Instead of choosing a username like dadof5, use something like bobsmith. Now, looks at all of the materials that represent you. Your usernames, emails, social media accounts, and Web site should use this name.
Scoop 2: Your logo
Think logos are just for businesses? Think again. A simple logo can help you build a brand and make first introductions for you. Choose a simple representation and a simple color scheme. Remember, if you don't know the first thing about design, you can always hire a freelancer to design one for you.
Scoop 3: Your photo
Logos are important, but when it comes to icons, use your photo. I've realized over the years that using a logo as your avatar is a bit like using a vague username- people just don't know who you are. You don't need a professional photographer to snap a good photo. Grab a friend and a phone with a camera and take a variety of photos so you have choices.
Scoop 4: Your graphics
As you develop your course, think of the ways in which you can use graphics that are from the same collection online or that have a similar color scheme. Furthermore, you can create similar graphics that represent your P2PU courses/challenges- that way people recognize your courses as part of a collection.
Scoop 5: Your layout
Part of your brand is your quality service to participants. When participants first enter your course or challenge, the layout becomes their first hurdle. If they have taken a course or challenge of yours before, you can help to eliminate that barrier by using a consistent layout. For example, you may wish to to have your first task be a video welcome with any downloads needed for the challenge or course. Then, you can follow up with the content and associated tasks with questions to prompt discussion. Finally, you can finish with a final project.
Scoop 6: Your open badges
Participants have the open of earning open badges in any course or challenge they take from you. Any open badges that you give out in the course should use the same color scheme, similar logos, and fonts that you used it the course. Your badges will help to build your brand across the Web.
Scoop 7: Your courses and challenges
Is it better to be a jack of all trades or a niche performer? I've toyed with this idea when developing courses on P2PU. At first I started to develop courses for all of my interests: healthy living, cleopatra, open badges…then I realized I would be hard to describe past someone who develops challenges on P2PU. I'd rather be known for something specific and have a dedicated audience (or tribe).  I suppose being a jack of all trades could be your niche, but I feel more comfortable having a core set of niches that I'm known for.
Scoop 8: Your social media
P2PU helps to build a community of learners. Give people another way to connect with you after they have finished one of your challenges and make them part of your network. They probably helped to promote you or took your course, so reciprocate and also promote their work.
Graphic:
http://rookery9.aviary.com.s3.amazonaws.com/15579000/15579061_eefc_625x625.jpg
Resources
Embed MentorMob:
Icons:
http://thenounproject.com/
Fonts:
http://www.google.com/webfonts/
Color Schemes:
http://www.colourlovers.com/
Freelancers:
https://www.elance.com/
Personal Branding Presentation by Leah:
http://leahmacvie.com/2012/04/personal-branding/