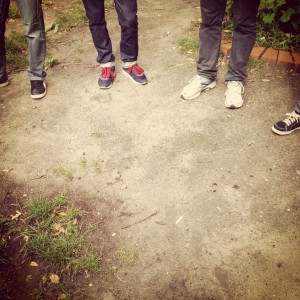 Vanessa
Yesterday I was in Sweden. Today I will be catching up badge maker challenge – because there has been a lot of activity. Meeting about assessment plan. Talking to someone about curriculum development about collaboration. Talking about Mechanical MOOC with Steve Carson. This afternoon following up on research.
Niels
Yesterday I finished my mini holiday. Almost done with the people page, but still need a picture of Piet. Will finish that today.
Aleks
Started making a guideline for visual elements on the site. Tried to set up a few layout elements, where to place certain elements. Today I'll create basic designs of more new pages with Philipp. At the end of the week, I hope to have the design for all core pages done.
Joao
Yesterday, I worked closely with Chris (helped with stylesheets) and Aleks (giving UX input to design). Today I am focused on complementary pages, working off the designs Aleks is working on.
Alex
Yesterday I finished the mentorship tracking features (to keep updated progress on mentoring activity). It might be cool to visualize all mentorships with all updates. Also made some fade mentorship reputation features. Today, I am going to hook up integration with P2PU login and get set up with notifications API. I'll write all the email templates and set up rules about that today. Hoping to get this done, write a blog post, and get it out. A new idea I'd like to work on are "icebreaker" activities for courses.
Alan
Yesterday I got all scheduling and budgets done for the open masters project. Today I am designing a very simple solution for participants to host very basic portfolios online.
Jane
Yesterday I published a long blog post about what we did. Worked with Piet and Molly and started on the School of Open skills map.
Molly
Today trying to move from post-it map to a real map. I am interested in revisiting the choice of license for P2PU content. I'd like to suggest dropping the share alike option. Hoping to discuss Thursday lunch time.
Piet
Yesterday, I did what they (Jane & Molly) said. Also bought office supplies. Today I am going to do what Molly said.
Bekka
Yesterday I got the performance review thing done. Today is all about course promotions. Need to get ready for blog posts, emails, press lists. Also keeping an eye on the badges discussion.
Dirk
Yesterday I rolled out a mini release. Set up notifications for the review process. Then played whack a mole. Looked into conversation tracking and found it's already set up. Today I am busy making some small changes to courses.
Philipp
Yesterday I did performance review with Bekka. Today I'm talking with the shuttleworth foundation, want to look at the newsletter mailing list with Bekka, meet with Dirk about his performance goals.