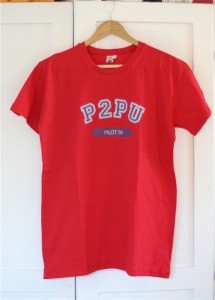 See that there? See that sterling example of 100% made-in-South-Africa-t-shirty-P2PU goodness? Isn't it just lovely?
We think so.
This is just an example of the new batch of P2Pu t-shirts that came back from the printers today. We know it's been a while, and we're sorry that some of you have ah to wait to long to get your shirts, but we're glad to be able to announce that anyone who is owed a shirt will be recieving them very soon.
We have 3 different shirts this time round:
Special pioneer ones for people who took part in the first ever P2PU Pilot courses back in 2009
Class of 2010 ones for people who completed a course this year can now consider themselves P2PU alumni
Barcelona-themed shirts for those members of the community who will be attending the P2PU meeting later this year.
If you think you're owed a shirt, or we promised you one and you're still waiting, just let us know in the comments section, and we'll sort it out as quickly as we can.